Transportation
Protect and connect people across your entire network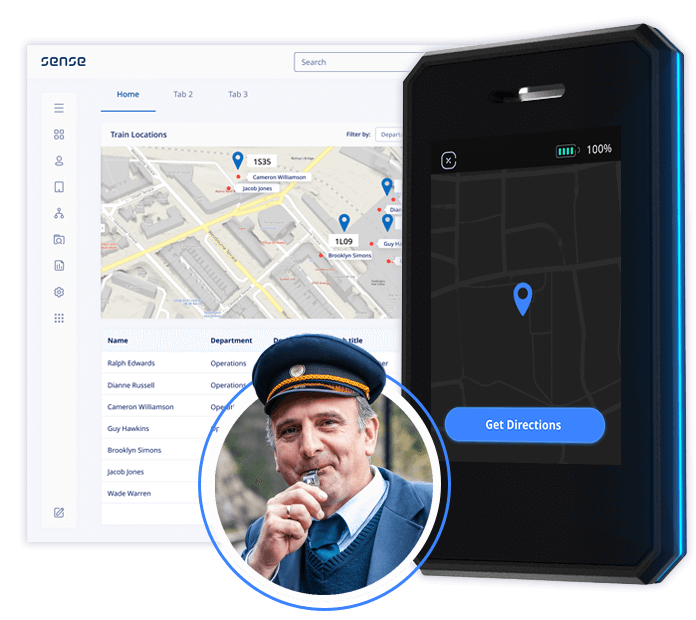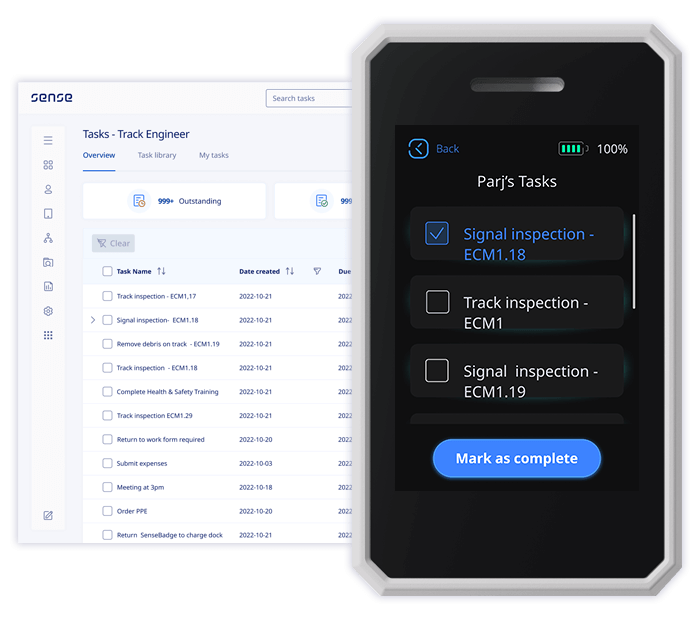 Digitally connect all members of your network
Transportation hubs can vary, both in size and number of vehicles being maintained – as can the scale of the operation they belong to, with multiple depots and facilities across a wide geographical area. With such a large and widely-spread workforce, co-ordinating transportation workers can be challenging. From station guards and information desk attendants, to vehicle conductors and drivers, Sense provides the hardware and software you need to connect each of your frontline workers across your entire network.
Know where staff are in real-time
Finding staff in stations and depots during peak work hours can be a real challenge for supervisors and managers. The wearable Sense Badge makes it easy to quickly check who is on shift, and exactly where they are – to make light work of customer service and priority management.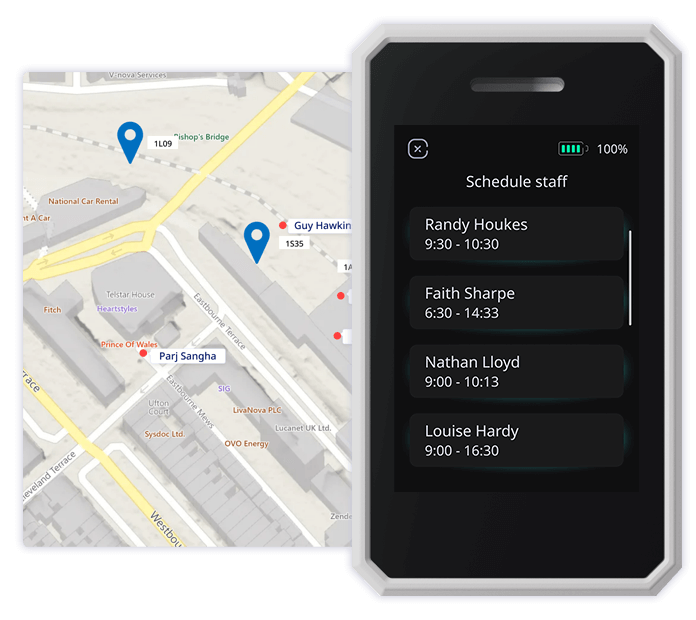 Biometric clock-in
Staff use their fingerprint to clock in at the start of their shift. Their Sense Badge verifies their identity and their location to make sure the right person is in the right place
Find colleagues
Search for team members based on their name, job role, skill or location – for example, to answer a customer enquiry – and see their real-time location and availability
Zone management
Set up geofenced zones to tell each Sense Badge whether its wearer should be there, and send automatic security alerts when somebody enters a restricted zone
Better real-time maintenance planning
Transportation services operate around timetables that may change due to traffic, staff shortages or vehicle breakdowns. Sense can track and monitor your fleet and your workforce, to help maintenance and operations teams optimise turnaround time for maintenance.
Fleet management
Manage maintenance schedules and monitor your entire fleet and rolling stock, to see each vehicle's status, location and its next service date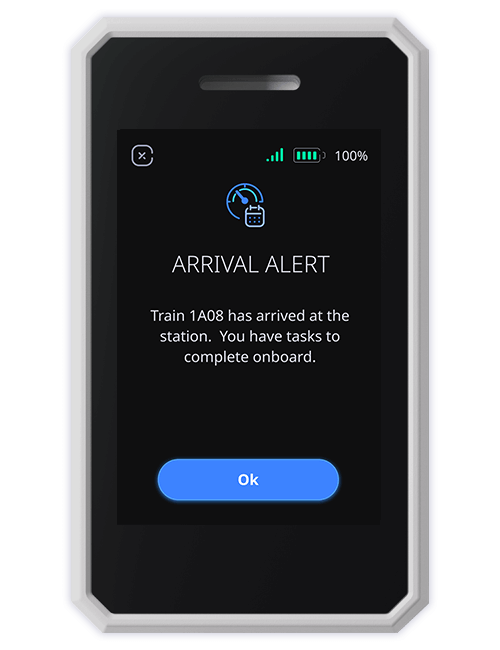 Vehicle tracking
SenseTags can alert you when a vehicle arrives at the depot, triggering a workflow for an engineer or cleaning crew to carry out a service
Inspection reports
Fleet inspectors can scan vehicles and log any required repairs, to automatically assign tasks to the appropriate engineer or technician
Real-time reports
Vehicle operators can use their Sense Badge to report any concerns they have in real-time, ready for inspection on return to the depot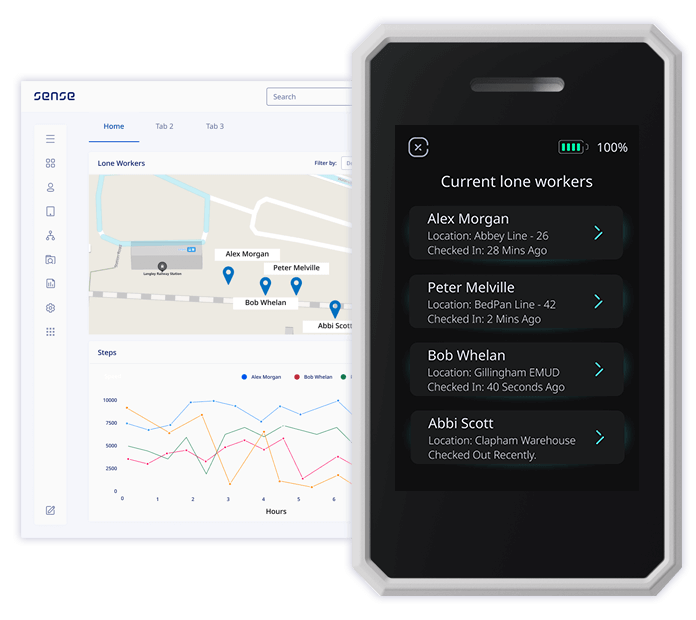 Create a safer work environment
According to HSE, over 3,300 people in the transportation sectors are injured each year. With many moving vehicles, heavy tools and harmful chemicals, maintenance depots, roads and train tracks can become unsafe workplaces. Sense combines location intelligence with unique safety technology to give your workers a wearable device that protects them at work, wherever they are.
Vehicle proximity
Sense can track the movements of both vehicles and people, allowing for automatic warnings and alerts whenever a moving vehicle is in close proximity to a person
SOS
The Sense SOS button allows staff in high-risk environments to call for urgent help if they feel threatened, if they are stuck, or if they detect an emerging issue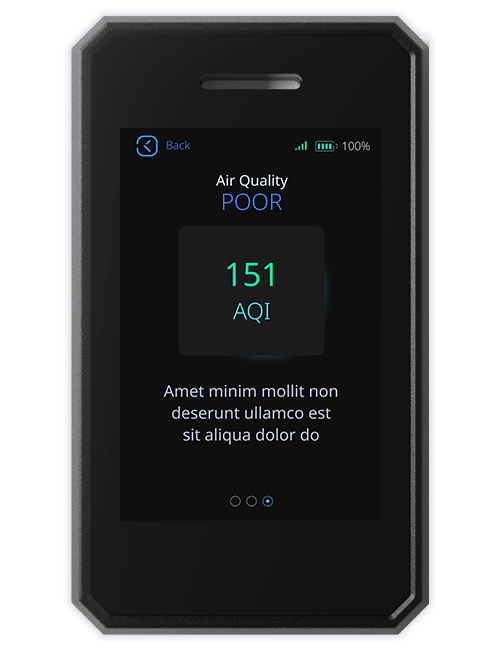 Fall detection
The Sense Badge detects hard falls, and can send an automatic alert to the worker's supervisor along with their precise location and the time the fall was detected
Environment monitoring
Each Sense Badge is fitted with environmental sensors to help you understand each person's working conditions, including harmful toxins, air quality and temperature
Lone worker support
Sense provides a dedicated lone worker support application for team members who work alone, complete with a suite of tools to help them feel safer and connected
Find out how Sense can help you
Sense provides the hardware, software and services you need to connect, inform and support your frontline workers. Our engineers understand the challenges facing frontline workers, and the technology it takes to solve them – so get in touch today, to find out how Sense could help your organisation join the dots.
Chat to an expert