A worldwide tech crisis for the deskless frontline.
The term 'frontline worker' has been central to headlines, soundbites, and the gratitude of millions for the last few years. It doubtless evokes images of the embattled healthcare professionals or tireless delivery drivers who supported us all through a global health crisis. But what most people don't realise is that the frontline is 2.7 billion individuals strong and growing – that's a jaw-dropping 80% of the global workforce. They nurse us and feed us, certainly, but they are also the people keeping the lights on. They make, grow, and distribute the products we rely on; build and maintain our homes, our workplaces, our infrastructure; nurture our bodies and minds; get us to where we need to go; staff our favourite restaurants and hotels, and so much more. But despite their numbers and pivotal role, they're traditionally underserved when it comes to technological solutions. Only 1% of software venture funding goes towards deskless technologies; a fact that became painfully clear as our frontline struggled through a pandemic with a mismatch of smartphone apps, single-use devices, standalone software, and analogue systems.
But why has the tech industry been neglecting the majority of the world's workforce? Advances in technology have so far mostly benefitted office workers and creating a better way of working, but the daily obstacles of the frontline feel unfamiliar and far-removed. It is a demanding environment, where inconsistent workloads and staffing constraints preside over each new shift. Workers are usually on the move but must stop to enter passwords and codes, or swipe access cards, as they go. Finding shared assets and equipment, or colleagues and locations is a frequent requirement, but rarely an effortless one. Even making a simple request for help can become a challenge. And in a perfect storm of frustration, they must juggle multiple systems and devices, with no reliable way of staying up to the minute with colleagues, objectives, or leadership.
Troubles at operational levels bubble up to the top
The consequences (and opportunities) of such obvious shortcomings are vast. An incredible 84% of frontline workers complain that they don't receive adequate communication from leadership and only 10% feel connected to company culture. Is it any wonder if those organisations struggle to hire and retain staff? And if they can hire successfully, they face training and deployment obstacles that are unique to the frontline. Training a dispersed workforce, collating and using data from disconnected sources, responding to employee feedback, staying abreast of scheduling conflicts and shortages, securing sensitive information, and even safeguarding staff are daily challenges. And that's before factoring in asset and equipment maintenance and tracking, or customer relations.
Frontline industries are simply incapable of adequately equipping workforces because the solution they need doesn't exist … until now. And it's not just adequate; it's revolutionary.
Not all heroic wearables are capes
The Sense ecosystem combines the unique requirements of deskless workflows and the full potential of the latest portable technologies. And while the Sense solution is made up of far more than just the wearable SenseBadge, this handy frontline companion is by far the most visible element – and is therefore a great place to start.
Our SenseBadge is a pocket-sized powerhouse, that can be worn on a lanyard, belt clip, breast pocket attachment, holster, or simply dropped in a bag or pocket. With a single device, workers can stay connected with colleagues and leadership throughout their shifts, without any risk of missing information and updates, or the opportunity to give valuable feedback. They can instantly find people, equipment (via SenseTags or other third-party passive and active RFID tags), and locations, get secure access to systems and facilities, navigate to specific locations, send and receive essential information, or even call for emergency help. Instead of struggling with new procedures and equipment, or suffering information overload during training, wearers can benefit from just-in-time instructions, delivered directly to their SenseBadge. It can facilitate or even automate the repetitive access requirements and administrative tasks that hinder productivity and flatten morale. All of this while eliminating the use of unapproved insecure apps and technology, improving team cohesion and appreciation, and reducing cost, complexity, and downtime for business-critical procedures. And every wearer will experience the impact of their own voice because SenseBadge shares real-time information and feedback with leadership in an actionable format, facilitating positive change across the whole organisation.
Under the hood
For a small device – the SenseBadge is only 12cm x 7cm, and weighs in with the most lightweight smartphones – it's packed with features. It includes a secure element, biometric sensors, motion sensors (including fall detection), environment sensors (it can be trained to tell the difference between types of coffee bean), Bluetooth, RFID/NFC, USB connector, compass, audio codec, speakers, 4G Modem, GPS, and precise positioning (even indoors). With a minimum 12-hour battery life, it'll still be going strong at the end of the most gruelling shifts. And it might be pretty, but it's also extremely rugged; it's resistant to water, drops, shocks, vibrations, temperature changes, and even sanitation wipes.
Sense delivers true organisational intelligence
Underpinning the ecosystem is the Sense central management console, an administrative application that offers a holistic view everyone in your Sense-powered organisation. From here managers can find workers, manage shifts, and identify situations on the front line as they unfold. These real-time insights are processed by powerful analytics tools to provide useful data and trends. So, with our suite of information management tools and unrivalled customisation capabilities, managers can respond quickly and strategically to changes by building their own workflows to trigger across the Sense ecosystem, and any integrated systems, instantly (no coding required).
In short, Sense organisations will have everything they need to become their own knowledge management systems; the key to achieving and maintaining peak operational efficiency.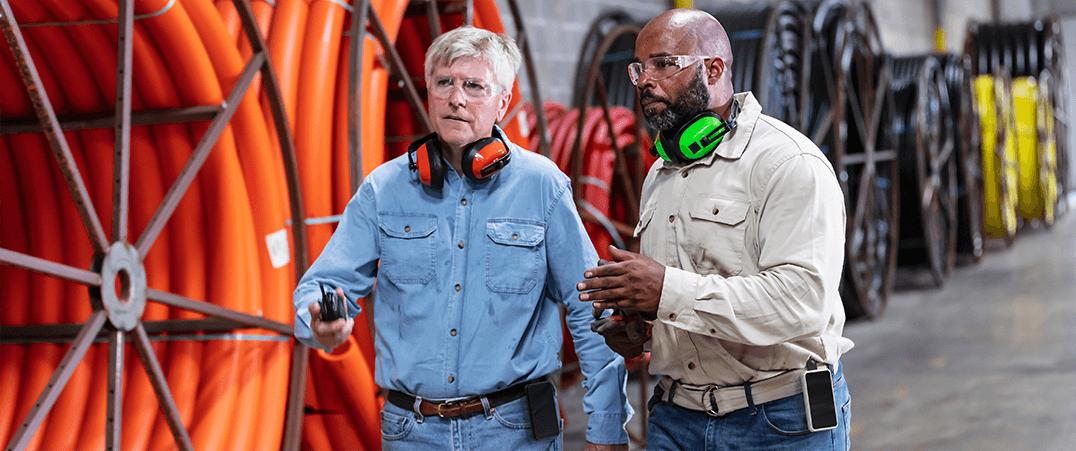 With great power, comes great responsibility
We don't claim to know what's best for every business, which is why we've built a solution that can evolve with, and be tailored to, the unique and changing needs of every frontline workforce. And we won't deny that extreme empowerment comes with a learning curve, but our customers won't be fending for themselves. Our hardware specialists will make sure customer networks are installed and configured correctly, including integrating with existing systems (even custom solutions), and phasing out former systems when they are no longer required. Our software specialists will work alongside customers to build the workflows and optimise the integrations that each business needs while facilitating internal training. And our highly trained support staff will be on-hand to answer questions and find the right help at the right time.
At Sense we are uniquely suited to understanding the needs of frontline workers and the organisations that employ them. Not only do we proudly count many ex-frontliners among our own workforce, but we have been tech innovators within the HR field since the early 2000s. We know the frontline. We've been serving them for over 2 decades. So, in a world where office workers have always taken precedent, the newly found (and well-earned) voice of the frontline worker marks the dawn of a new era in tech, and Sense is already at the forefront.
Talk to us about becoming a Sense organisation, joining our team, or investing in the future of our vital frontline.