Hospitality
Manage your teams and deliver a better guest experience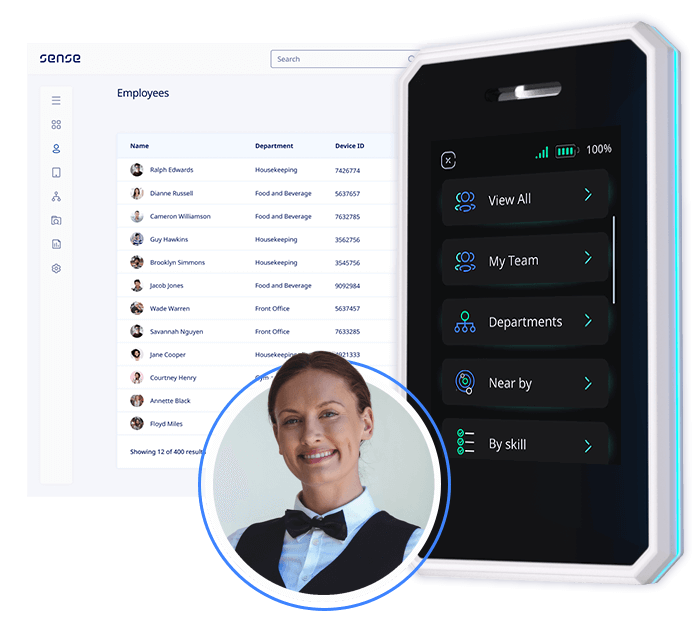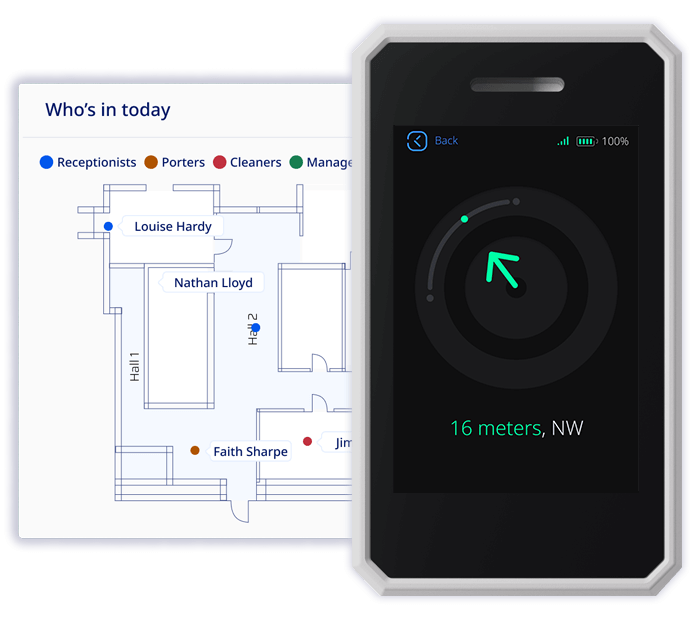 Connect your staff to help them look after your guests
The hospitality sector has a difficult challenge making guests feel welcome, safe, and able to enjoy their trip. Whether you're running a hotel or a holiday resort, you most likely employ many frontline workers who take care of your guests' needs or who maintain your facilities. The SenseConsole gives you an easy way to locate, manage and communicate with these workers – while the wearable Sense Badge equips your team members and helps them stay connected, informed, and to get the help they need.
Enhance guest experiences
Guests can be very demanding. To look after them effectively, you need your staff to respond quickly to guest requests, while ensuring routine services are delivered in a timely manner. Sense provides the hardware, software and services that help hotels and resorts deliver a better guest experience.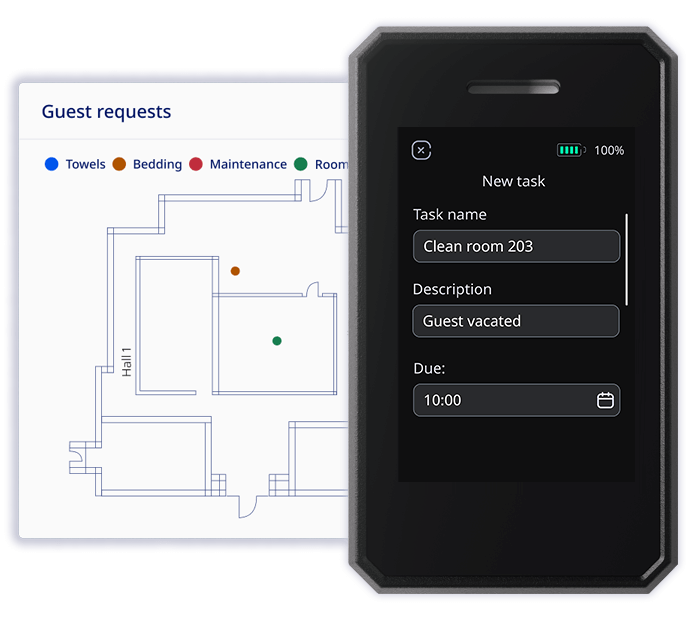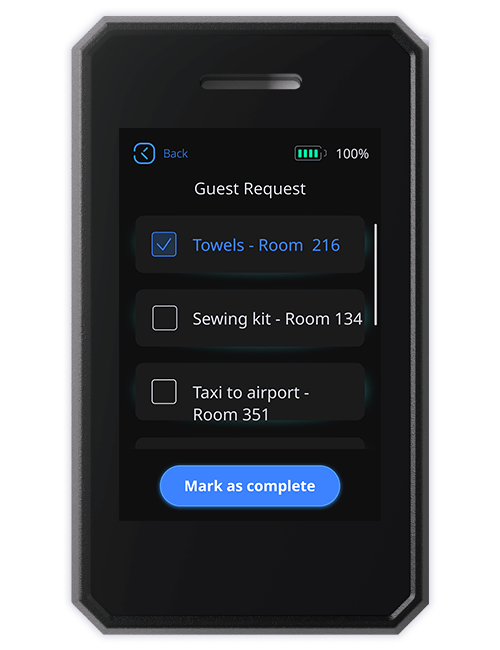 Guest check-in
Hotel or resort staff can start the check-in process from anywhere, using their discreet wearable Sense Badge to inform reception of their arrival and assign a room number
Room ready alerts
Guests can be given a Sense Badge that alerts them when their room is ready, so they can relax at the bar or restaurant while housekeeping complete their finishing touches
Luggage tags
SenseTags can be attached to luggage and assigned to particular guests, to give your visitors peace of mind that their bags will be tracked and delivered to the correct room
Do not disturb
Cleaning and maintenance staff can use their Sense Badges to scan for SenseBands, informing them whether or not a room is occupied by a guest who does not wish to be disturbed
Child tracking
SenseBands can be attached to young children or vulnerable guests, so that guardians or venue staff can be alerted if the wearer has left the premises or entered a restricted zone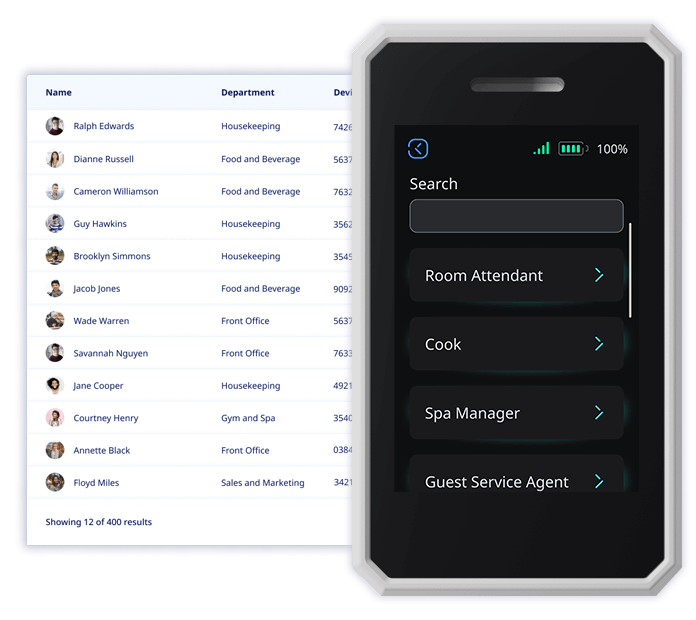 Simplify staff management
With many shifts and teams to keep track of, hotel or resort managers have a difficult challenge communicating and managing staff effectively. Workers who are constantly moving around the venue do not usually have easy access to central systems, email or telephones, and it's not always possible to keep everybody in line via instant messaging or chat groups, especially when these apps are installed on personal mobile phones. Sense gives team managers constant visibility of team member locations, and an easy way to keep everybody in touch.
Locate staff
Shift managers can use the SenseConsole to see who has signed into their Sense Badge, find out where they are, and redeploy them to meet demand
Workload management
Allocate tasks to individuals or teams, and create step-by-step checklists to ensure routine tasks are completed on time, and according to required standards
Team communication
Sense's secure internal messaging service gives team members a discreet way to share updates or guest requests, no matter what their current location
SOS and fall detection
Sense Badges have an SOS button for staff who feel unsafe, and can automatically detect hard falls and alert nearby colleagues with the wearer's location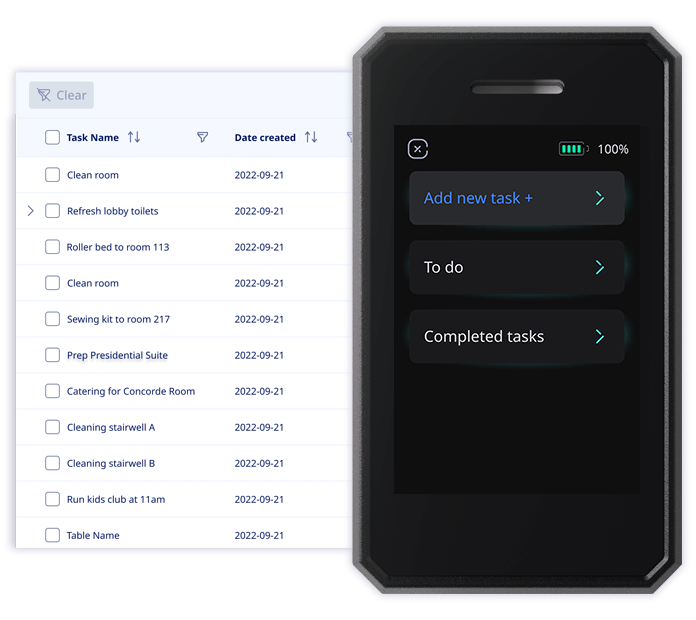 Optimise your workforce and improve your guest experience
Co-ordinating large teams spread over large facilities with many sites or storeys can be a challenge. Sense helps you create tighter controls around how your processes should be executed, while reducing non-value tasks that require repetitive manual admin. Sense also delivers accurate data insights to help you identify your biggest challenge areas, as well as which teams operate the best – and why.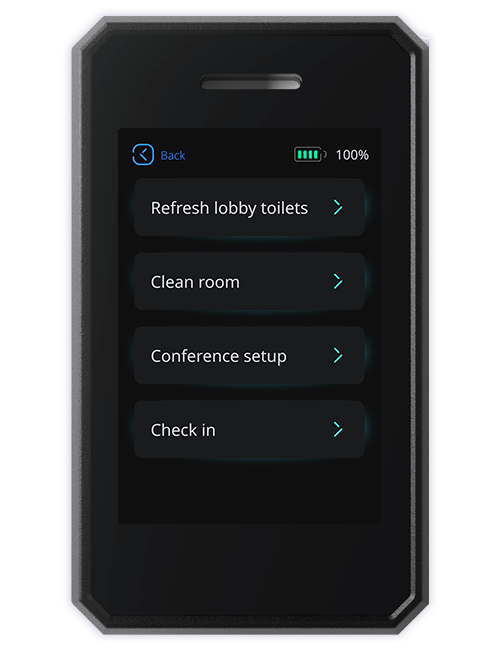 Automatic timesheets
Simplify timesheet administration by automating your clock in/out protocol – when team members log in to a Sense Badge, you'll get exportable time and location data to verify their attendance
Prioritise tasks
Assign jobs to teams, to prioritise important tasks like preparing certain guest or conference rooms – and prepare task-specific checklists or event schedules, to ensure no detail gets left behind
Movement data
Analyse the movement patterns of both staff and guests, to understand more about your busiest days, times, or locations – and use this information to improve staff and resource planning
Facility management
Let staff report equipment or facilities that require repairs or maintenance directly from their wearable Sense Badge – and create automatic alerts and jobs for your maintenance teams
Scalable solution
The Sense solution is designed for organisations with large volumes of frontline workers, and can grow with you – our system can simultaneously manage multiple sites, storeys, fleets and teams
Find out how Sense can help you
Sense provides the hardware, software and services you need to connect, inform and support your frontline workers. Our engineers understand the challenges facing frontline workers, and the technology it takes to solve them – so get in touch today, to find out how Sense could help your organisation join the dots.
Chat to an expert