Wearable authentication
The Sense Badge lets frontline workers authenticate themselves anywhere, to prove their identity, mark their location and verify task completion.
Fingerprint & 2FA
Wearable digital ID
Location and zone control
Clock in and out
Talk to us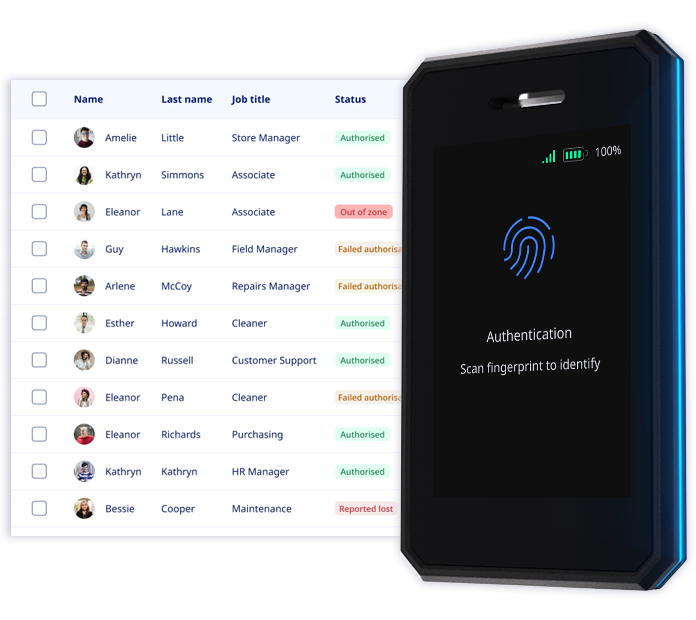 See who's on shift and verify identity and activity
The wearable Sense Badge tells you who is working, where they are, and lets you verify their identity with secure biometric authentication.

The central Sense Console can alert a supervisor if somebody enters a restricted zone, or if somebody fails to authenticate themselves.

All data is identity-stamped, time-stamped and location-stamped, helping you analyse task completion, interactions and movement patterns to improve processes and productivity.
Protect each Sense Badge, each wearer, and all critical company data
2-factor authentication
Each device requires both fingerprint and pin-code authentication from the authorised Sense Badge wearer
Custom permissions
Sense Badge wearers have custom permission profiles, giving access to features based on rules set by their organisation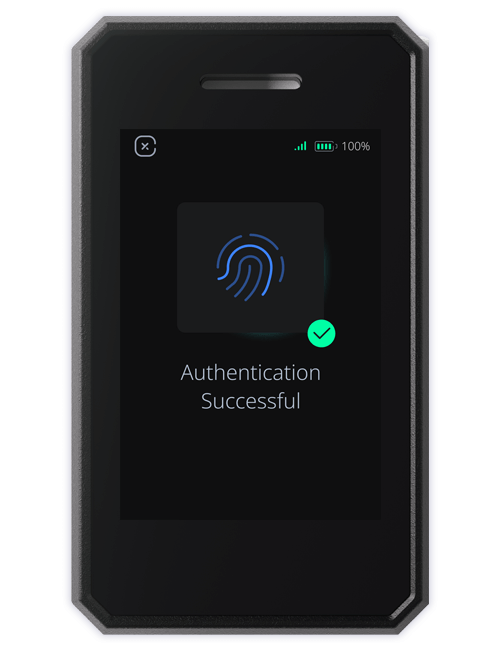 Location-based zone entry
Permission-based geofenced zones send alerts whenever somebody enters a restricted or unauthorised area
Failed login alerts
Each failed login attempt creates a system alert that sends an accurate time and location stamp to your administrator
Cloud storage
All user profile data is stored on the cloud and only sent to the device upon successful authentication
Full audit log
Improve security compliance with a full audit trail of login attempts, complete with accurate time and location data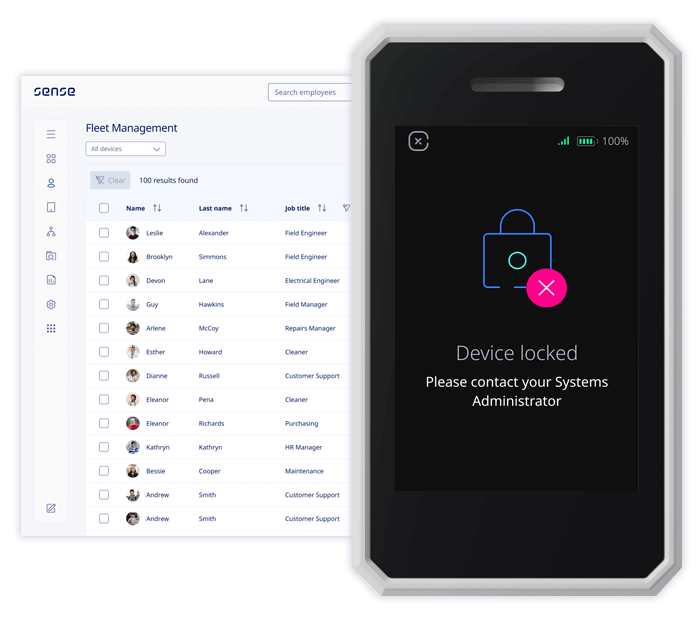 Remote device management for a more secure workplace
Your SenseConsole delivers a modern MDM (Mobile Device Management) dashboard, where you can quickly access any Sense Badge within your network. This helps you quickly locate lost badges, remotely lock the screen, or even log them out completely.
Strong security for your peace of mind
Verified identity
The fingerprint factor ensures only authorised staff can access your devices, workflows and integrated apps
Remote management
Prevent unauthorised access by locking devices remotely. Any login attempts will immediately notify your IT team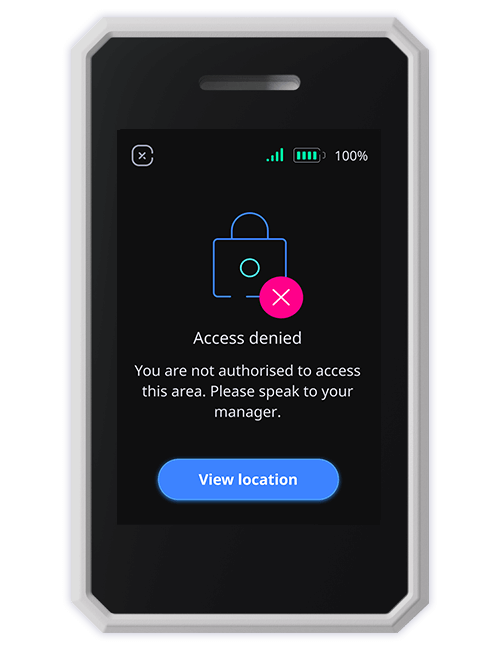 Site permissions
Alert the relevant manager if an unauthorised Sense Badge wearer is detected in their office, store, facility or zone
Rapid registration
Cloud-based data storage lets you quickly assign a new badge for adoption if an individual leaves theirs at home
Find out how Sense can help you
Sense provides the hardware, software and services you need to connect, inform and support your frontline workers. Our engineers understand the challenges facing frontline workers, and the technology it takes to solve them – so get in touch today, to find out how Sense could help your organisation join the dots.
Chat to an expert