Healthcare
Connect, equip and manage healthcare workers for better patient care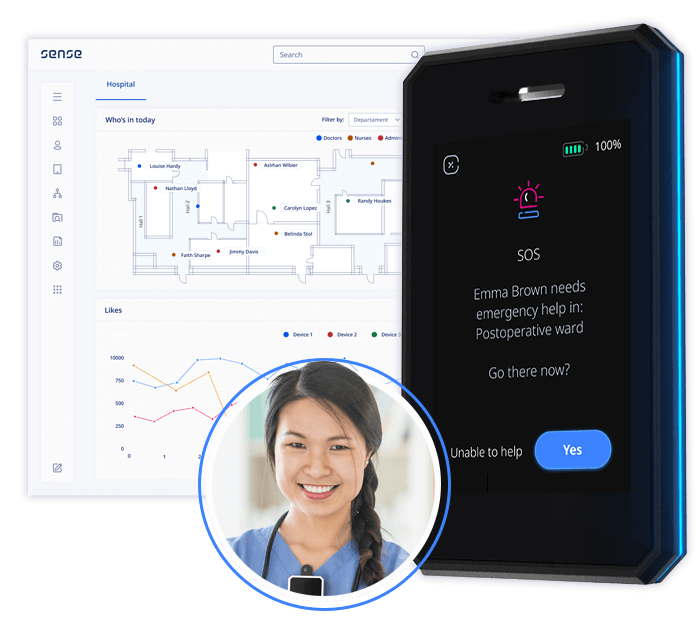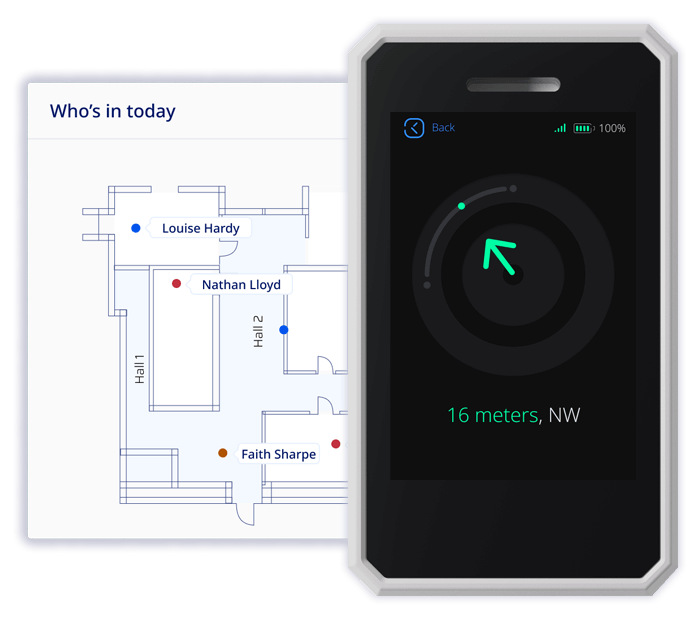 Modern, joined-up working for healthcare staff
Sense is the ideal solution for modernising new and existing healthcare facilities. The Sense platform combines wearable hardware with high-tech software, to let you monitor and locate patients or staff, while helping workers quickly find and navigate to people or equipment – in real-time. With Sense, frontline staff are better organised, better equipped, and better connected with colleagues and patients.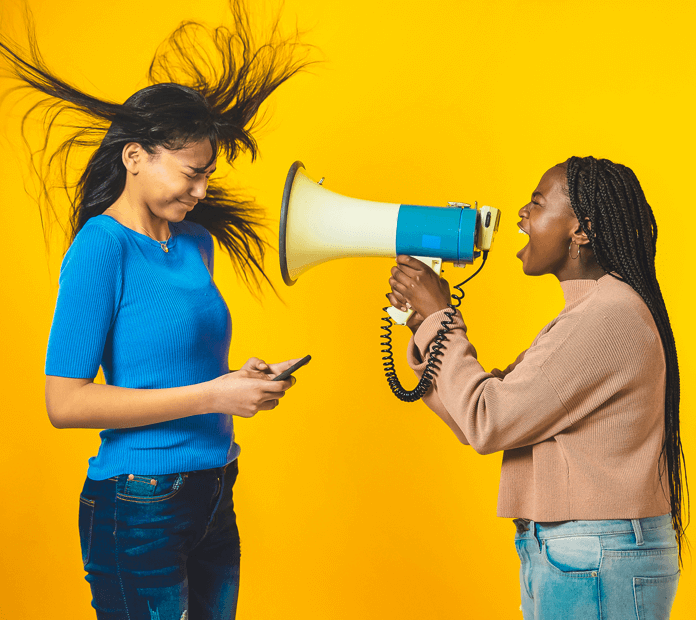 Reducing disruptive voice comms
Voice communications can be disruptive, annoying, and irrelevant. Learn why you should consider swapping for something better, which can increase productivity and boost wellbeing.
Read more
Deliver better patient care
Healthcare staff are often overworked, which directly impacts the quality of care they deliver to patients. The Sense platform helps your workforce to streamline their workload and improve patient outcomes.
Locate patients
Use Sense Badges to locate and navigate to patients quickly, using high-precision indoor location technology
Request help
Doctors and nurses can quickly request emergency help from the closest available qualified colleague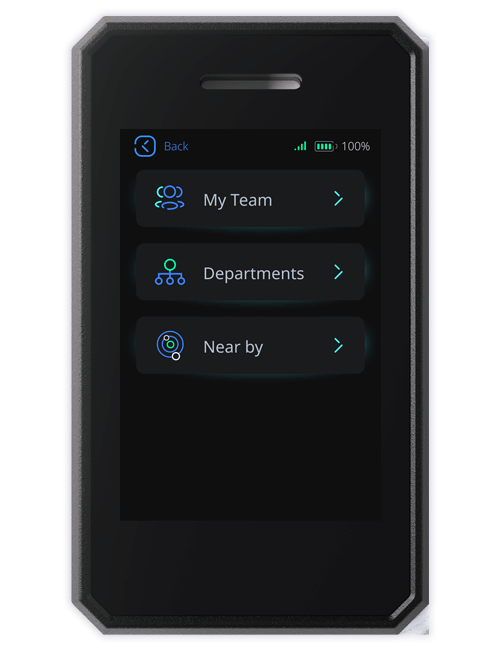 Care logs
Find out when each patient was last seen, who attended to them, and what type of care was delivered
Integrations
Integrate Sense with your other healthcare systems such as smart watches that monitor patients vital signs
Improving Care in the Community
How can care providers protect themselves and their staff? And how do customers know for sure they're getting what they paid for? We explore how technology can help.
Read more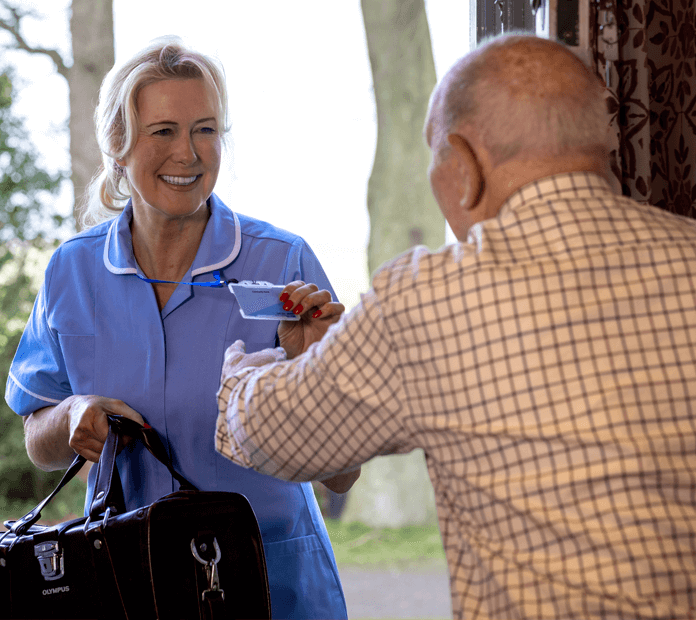 Better staff management
Healthcare facilities are often extremely busy, and frequently understaffed. Many shift managers face challenges such as checking all staff have shown up for their shift, helping nurses find the right doctors in an emergency, and locating assets, equipment, or members of the maintenance team.
Plan shifts
Team leaders can see who is meant to be on shift, and where they are - for fast redeployment during busy periods
Locate specialists
Nurses can search for nearby doctors or consultants with specialist skillsets, and even request emergency support
Indoor navigation
New or visiting hospital staff can get accurate indoor navigation through complex facilities they may be unfamiliar with
The trouble with voice communication in healthcare
Voice-only communication systems have their uses, but plenty of problems, too. Read this article to learn more about the challenges with using voice communication systems in medical settings.
Read more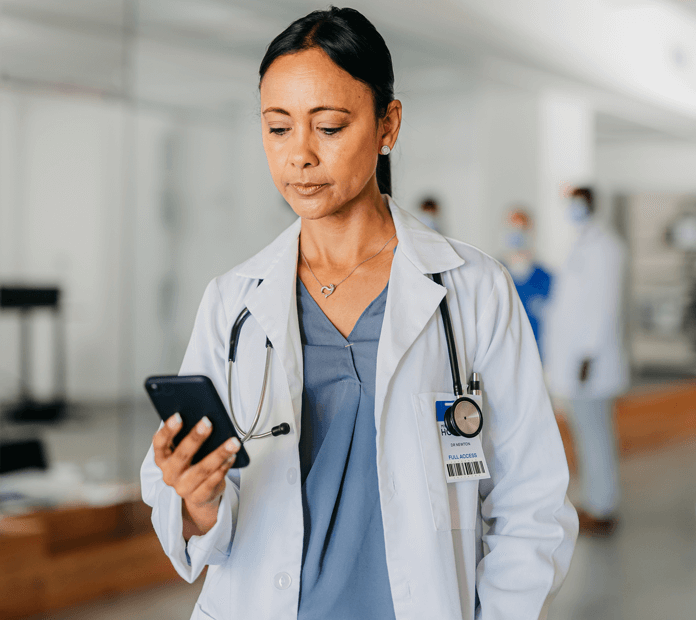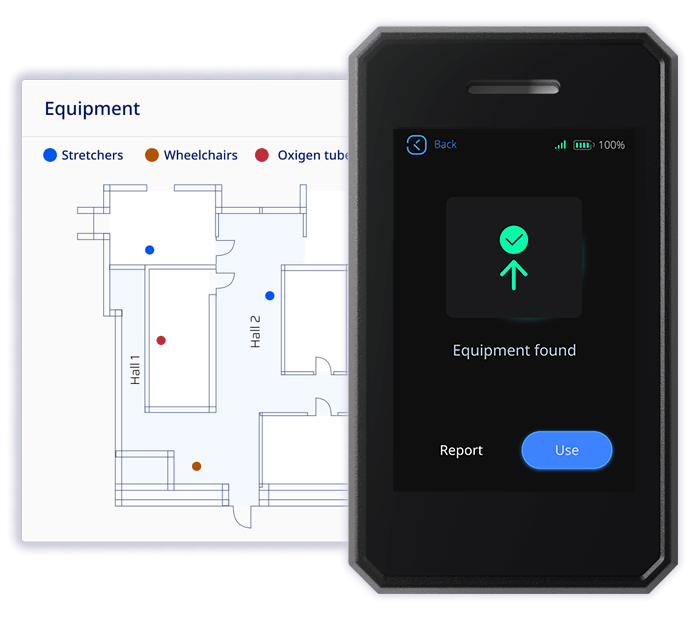 Asset tracking for hospital workers
Nurses spend up to an hour a day looking for the equipment they need, and waiting for it to become available – time that would be better spent on patient care, or taking much-needed breaks.
Locate
Find the precise location of important assets or equipment, and save time spent searching or making phone calls
Reserve
Look up equipment availability, check it in or out, and reserve timeslots to prioritise workload and prevent bottlenecks
Report
Report the condition of equipment to trigger workflows that create tasks for the facility management team
Better and more effective communication
Effective communication amongst large frontline teams can often be difficult. Providing everyone with their own mobile device and subscriptions can be costly, whereas letting staff use their own devices creates risk, allows distractions, and fails to ensure that all staff are properly connected to each other. Sense gives your organisation its own secure internal messaging system – to help you and your frontline workers stay in touch.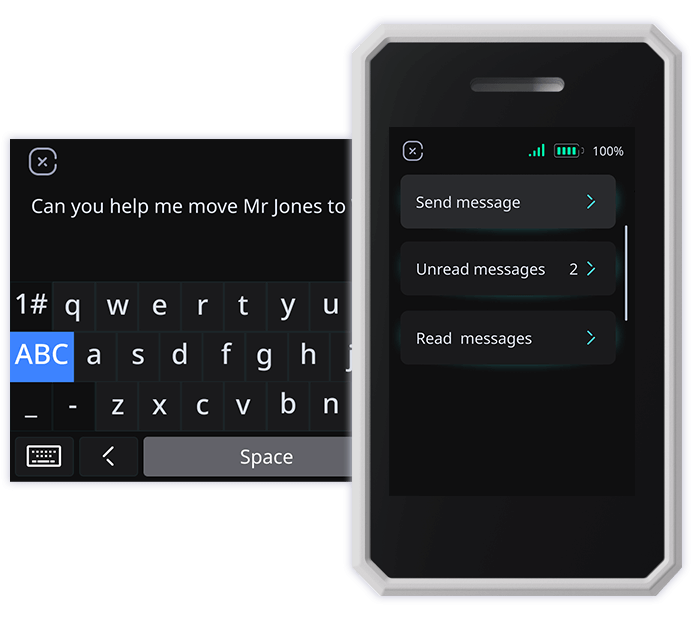 Secure internal messaging to keep team members connected
Wearable messaging
The Sense Badge clips to workers uniform and provides a secure internal messaging service between team members
Targeted messaging
Send messages to named individuals, or simply send to the nearest available person with a particular skillset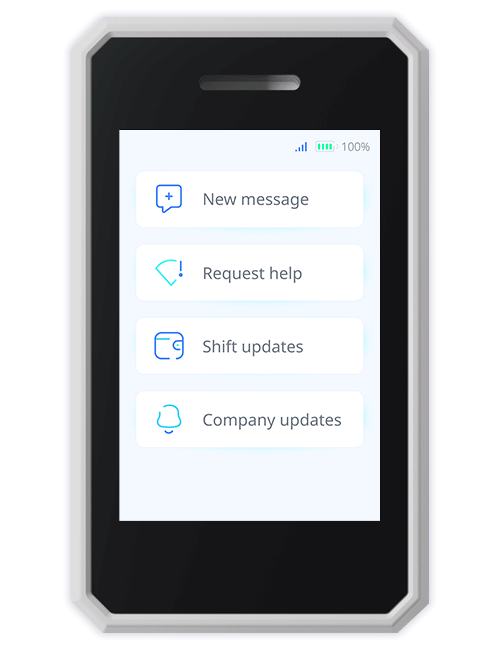 Team messaging
Send company updates to all staff, or let team leaders inform on-duty workers of important shift information
Cost effective
Sense Badge devices use 4G LTE-M at a much lower cost than mobile phone or equivalent messaging services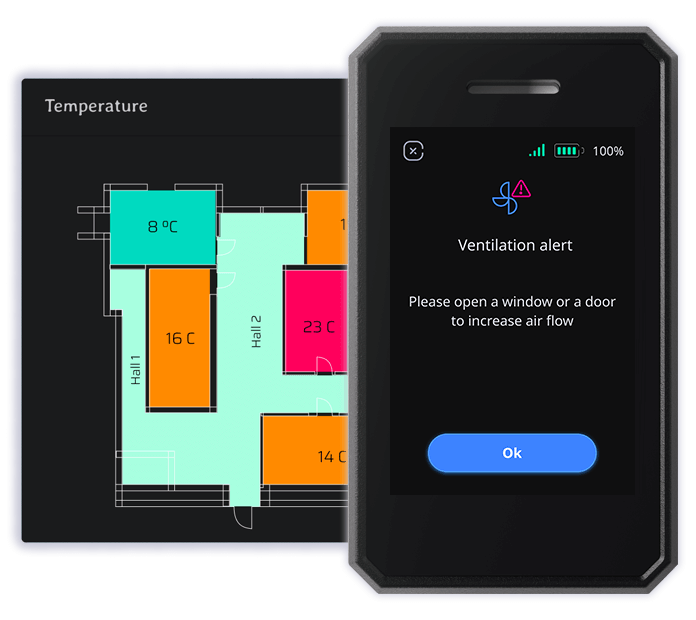 A safer working environment for your entire team
Different types of healthcare workers operate within different environments – and providing a safe workspace isn't always easy. For example, community nurses or care workers often feel disconnected or vulnerable when working alone – while medical workers in your facility are often rushing around between patients, putting them at a higher risk of an accident or a hard fall.
The Sense solution helps you take better care of your staff
Lone worker support
The Sense lone worker app tells supervisors where each worker is at all times, and can request periodic check-ins to help staff feel more secure while working in the community
SOS
The SOS button allows any worker to call for urgent help in any setting where they feel unsafe or unwell – and broadcasts their precise location to the nearest available helper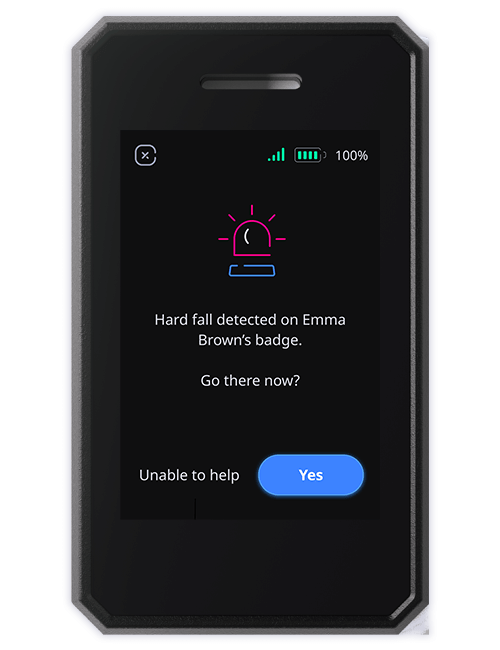 Hard fall detection
Each Sense Badge can instantly detect when its wearer may have suffered a hard fall – and if the worker fails to confirm they are OK, then it will automatically call for urgent help
Environmental sensors
See a real-time summary of each worker's environment– the Sense Badge constantly checks for temperature, humidity and air quality, and can even detect harmful gases or toxins
Pandemic control
The Sense solution can use precise real-time location awareness to help you monitor social distancing, while reminding staff to wear masks, open windows and sanitise their hands
Better time and task management
Staff shortages across the healthcare sector mean frontline workers have very little time to complete and prioritise tasks. Managers are often unable to check all tasks are complete, meaning many become spill-over priorities for the next shift, creating backlogs.
The Sense solution helps you monitor and prioritise tasks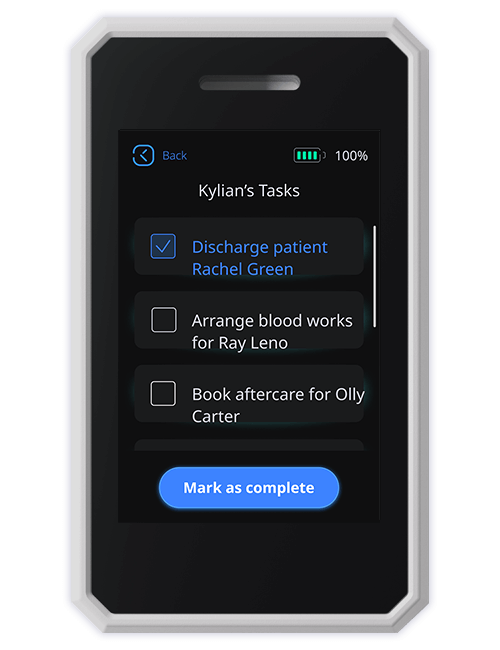 Start the day
After each worker authenticates themselves to start their shift, any tasks assigned to them for that day will be automatically downloaded
Task schedules
Create recurring daily task lists for different shifts, different workers or different departments, to ensure all the vital basics get covered
Ad-hoc tasks
Assign one-off tasks to doctors, nurses, technicians or engineers, such as to check in on a patient, run a test, or fix a piece of equipment
Monitor progress
Ensure nothing gets missed - shift supervisors can see which tasks have been completed, and what's still outstanding for each team member
Audits and insights
Analyse historical task completion data, either by individual, team or department, to learn what's working best and where needs attention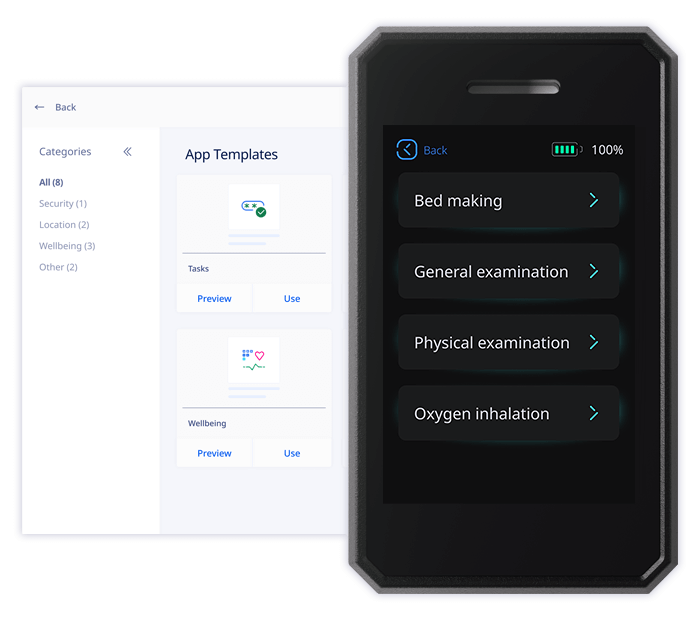 Streamline and simplify processes
Patient care is often slowed down due to overly complex processes. Nurses must often wait for other experts or departments to provide booking slots for x-rays, to sign-off on patient release, to send patient transportation, or for ongoing care to be booked. This all tends to involve emails, phone calls, and a reliance on other people in order to complete patient-related tasks.

Sense provides workflow automation tools to help hospitals remove manual steps and reduce repetitive non-value steps. Simple workflows allow you to execute automatic commands based on events or triggers, while our unique no-code app builder lets you build custom interactive apps that you can load onto workers Sense Badge to solve more complex orgasniational processes.
Learn more
Find out how Sense can help you
Sense provides the hardware, software and services you need to connect, inform and support your frontline workers. Our engineers understand the challenges facing frontline workers, and the technology it takes to solve them – so get in touch today, to find out how Sense could help your organisation join the dots.
Chat to an expert